Columbia Cliff Villas Hotel Named 2013 Runner-Up
For Best Hotels in Oregon For Meetings & Events
(With Less Than 200 Rooms)
By Northwest Meetings & Events Magazine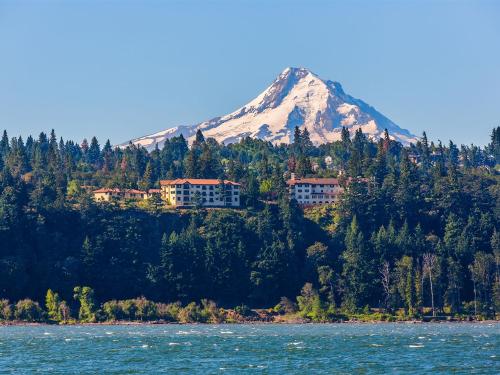 Hood River, OR, July 23, 2013- Northwest Meetings & Event's Magazine released their 2013 Reader's Choice Best Of Awards and Columbia Cliff Villas Hotel has been named a runner-up for Best Hotel in Oregon for Meetings & Events (less than 200 rooms). Winners were announced at a Reader's Choice Best Of Awards Party on Thursday, June 27th, 2013 in Seattle, Washington. Also named to the Top 3 were the Heathman Hotel and Hotel DeLuxe. Columbia Cliff Villas Hotel is located in Hood River, the heart of the Columbia River Gorge, and is the only hotel outside of Portland, Oregon that was nominated for this award. In other categories, the Columbia River Gorge also finished as a runner-up for Best Attraction in Oregon.
About Columbia Cliff Villas Hotel: Many of today's top-performing companies are finding that their most productive meetings often take place outside the typical conference room set-up, where a more private, comfortable and intimate setting stimulates outside-the-box thinking and team building. Columbia Cliff Villas specializes in coordinating these unforgettable events in breathtaking, cliff-edge meeting suites. Spacious villas are equipped with comfortable living room furnishings, as well as a boardroom table and gourmet kitchen. Participants can stretch their legs, re-position the setting, or conduct breakout sessions, without disrupting a meeting's flow. Whether you gather around the fireplace or the table, the views will have a lasting impact on everyone who attends.
Why break for lunch (or even dinner) when it can be catered in such an inspiring setting? Outstanding local caterers offer a variety of fare at very reasonable prices. Private-chef dinners and wine tastings with knowledgeable representatives from top local award-winning wineries can also be a big hit with such a dramatic backdrop. Chef and owner, Ben Stenn from Celilo Restaurant offers cooking classes, paired with local wines and fresh produce from the area, as a fun team-building wrap up to a productive day.
But don't forget to allow time to experience Hood River's many off-site activities too. Located just one "Gorgeous" hour from Portland, in the heart of the Columbia Gorge National Scenic Area, you are surrounded by year-round outdoor adventure, spectacular wine country and outstanding restaurants. Guests and groups can find excellent fine and casual, indoor and outdoor dining throughout the Gorge. Dozens of outstanding restaurants can be found in Hood River, some within easy walking distance of Columbia Cliff Villas.
In addition to dining recommendations, Columbia Cliff Villas' concierge can arrange everything from golf to skiing; to whitewater adventure; to horseback riding; to waterfall hikes; to wine tours with private barrel tastings. How about fly fishing, windsurfing or stand up paddleboard lessons? Whitewater rafting is always a memorable team-building activity. Wet Planet Outfitters is one of the best local outfitters, with experienced guides who make it fun for everyone.
Columbia Cliff Villas' spacious suites are also perfect for small weddings and receptions, bridal dinners, and the farewell brunch, as well as family reunions and small-group wine country tours or ski trips, private celebrations, and much more!
Contact our sales team at gorgegetaway@columbiacliffvillas.com to start planning your next event!
Visit us online at www.columbiacliffvillas.com
PR Contact: Columbia Cliff Villas