Columbia Cliff Villas Redefines "Ideal Location"
A LOCATION THAT INSPIRES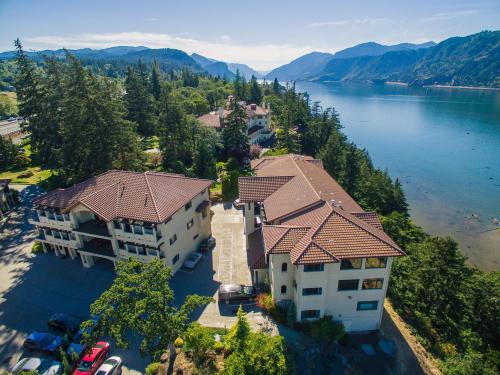 Columbia Cliff Villas luxury hotel condominium offers grand living areas, including master suites, and balconies. Several guest suites provide panorama views of Hood River mountains, forests, valleys, cliffs and rivers. From this vantage point, 200' above one of the world's most famous windsurfing beaches, you absorb the majesty of Oregon's Columbia River Gorge. To top it all off, the romantic manicured and peaceful gardens of the historic Columbia Gorge Hotel is right next door.
Stroll the pathways through the award winning "Gardens of Distinction" along the tumbling creek. Hear nothing but the waterfall and breathe in its fresh clean mist as you recharge and stimulate your senses.
Getting here is too easy. Just take Interstate 84 to Exit #62, follow signs to Columbia Cliff Villas.
A LOCATION FOR YOU
Ideal for day trips or commuting to Portland...or wherever...whenever. No-hassle condominium living makes extended vacations an easy spur-of-the-moment decision.
As a primary residence, condominium owners bask on the sunny side of the Cascades. Located within an hour of PDX and downtown Portland—minutes from the plethora of Hood River Gorge recreational, shopping, culinary and wine-tasting opportunities—only steps to The Columbia Gorge Hotel's fine dining, veranda, piano bar, gardens and new spa facilities. As a second home, escape the city (and the clouds), without making an expedition. Reward your busy lifestyle, take advantage of those special over-night and one or two-day opportunities when time allows. Spend a week...or the entire season.
As an unforgettable destination, even the most discerning travelers are certain to remember Columbia Cliff Villas as a luxurious and romantic Hood River favorite.
A LOCATION FOR GUESTS
Columbia Cliff Villas have been ingeniously designed to allow condominium owners flexibility to isolate sound-proofed, lock-off guest suites for privacy (or rentals if they so choose), yet function as a contiguous luxury home when your invited guests come calling. For larger gatherings, simply reserve a neighboring Villa or elegant rooms at the adjacent Hotel. Facilities can accommodate business retreats or family reunions...if you are willing to share the serenity.
A LOCATION FOR THE PALATE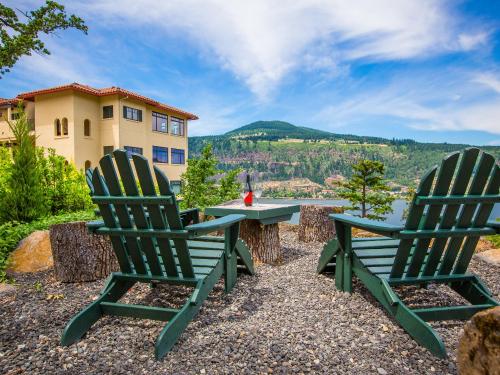 Superb wineries, drier climate and the plethora of recreational opportunities have transformed Hood River, Oregon into an exceptional dining destination. From elegant to casual, choosing a favorite is impossible.
A LOCATION FOR ALL SEASONS
The majestic beauty of the Gorge and Hotel grounds inspire every season. Where else can you enjoy nearly year-round hiking, golf, cycling, fishing and world-class snow, wind and water sports? (Note: wine tasting, fine dining and sight-seeing are not seasonal activities!)
For Reservations: (866) 912-8366